When we reduce our day-to-day contact with other people, we will reduce the spread of the infection. That is why, from Thursday 5 November until Wednesday 2 December, the Government is introducing new national restrictions in England.
---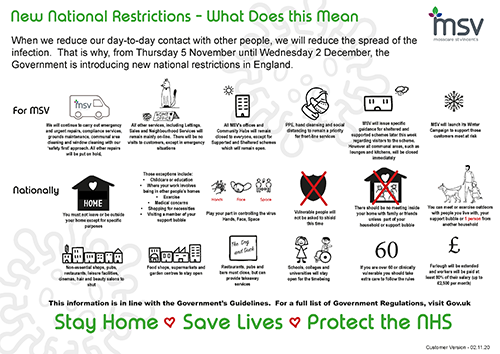 ---
FAQs
You must not leave, or be outside of your home, except for specific purposes. For example, childcare or education, to go to work (if you cannot work from home), to exercise, to be with your support bubble, for any medical appointments, shopping for necessities or to escape risk of injury, for example domestic abuse. A full list of exceptions can be found on the Gov.uk website
Contact the police by ringing 101. Please do not report this to MSV, we have no powers to address these types of issues. Remember though, some people are in a support bubble and they are permitted to go inside the home of the people they are in a bubble with.
We will only be carrying out emergency and urgent repairs. If you have already logged a repair with us, we will honour this and do it as soon as we can, so please be at home. However, all new repairs, unless they are emergencies, will need to wait so please don't contact us with these repairs at the moment. We will be reviewing this arrangement in 4 weeks time. We will continue to deliver grounds maintenance, communal area cleaning and window cleaning.
For those repairs which we intend to carry out, our front-line Operatives will be following the Government's advice on social distancing, wearing full PPE and sanitising their hands
Yes, if you are due to have your annual appliance checked you must allow the MSV Operative to carry out their work. We will contact you in advance to let you know we are visiting.
Yes, it is very important that you continue to pay your rent. However, we have specialist staff on hand to talk you through your financial options and benefits, so if you are struggling please get in touch straight away by emailing us at enquiry@msvhousing.co.uk or ringing 0161 226 4211
In the majority of cases, no we will not evict any customers. However, we reserve the right to deal appropriately with serious cases of anti-social behaviour or entrenched non-payment of rent where no agreement has been reached with the customer.
No, all communal areas will be closed but we will continue with the community support activities, such as beat the boredom packs.
Yes, you can, but if you have any enquiries we ask that you visit the website first at www.msvhousing.co.uk. We have a section on the website that can answer straight forward questions. If you still need to speak to someone you can complete the Contact Us form on the website and we will get back to you. Contacting us through the website is the most efficient way of getting in touch and saves you having to hang on the phone.
Play your part and do your civic duty! Stay at home, practice social distancing when you are out, and practice good hand hygiene - remember hands, face, space.
What does this mean?
For MSV
We will continue to carry out emergency repairs, compliance services, grounds maintenance, communal area cleaning and window cleaning with our 'safety first' approach. All other repairs will be put on hold.  We will also continue to carry out major works such as windows and doors, but will not be carrying out any major works inside, such as bathrooms and kitchen.

All other services, including Lettings, Sales and Neighbourhood Services will remain mainly on-line. There will be no visits to customers, except in emergency situations.

All MSV's offices and Community Hubs will remain closed to everyone, except for Supported and Sheltered schemes which will remain open.

PPE, hand cleansing and social distancing to remain a priority for front-line services.

MSV will issue specific guidance for sheltered and supported schemes later this week regarding visitors to the scheme. However, all communal areas, such as lounges and kitchens, will be closed immediately.

MSV will launch its Winter Campaign to support those customers most at risk.
Nationally
You must not leave or be outside your home except for specific purposes.
Those exceptions include:
Childcare or education
Where your work involves being in other people's homes
Exercise
Medical concerns
Shopping for necessities
Visiting a member of your
support bubble
Play your part in controlling the virus Hands, Face, Space.

Vulnerable people will not be asked to shield this time.

There should be no meeting inside your home with family or friends unless part of your household or support bubble.

You can meet or exercise outdoors with people you live with, your support bubble or 1 person from another household.

Non-essential shops, pubs, restaurants, leisure facilities, cinemas, hair and beauty salons to shut.

Food shops, supermarkets and garden centres to stay open.

Restaurants, pubs and bars must close but can provide takeaway services.

Schools, colleges and universities will stay open for the time being.

If you are over 60 or clinically vulnerable you should take extra care to follow the rules.

Furlough will be extended and workers will be paid at least 80% of their salary (up to £2,500 per month).
---
This information is in line with the Government's Guidelines. For a full list of Government Regulations, visit Gov.uk